What is SoulCollage®?

Simply put: SoulCollage® is a deeply revealing process combining the creation of small works of collage art that become springboards for self-discovery. SoulCollage® was originally developed by my teacher Seena B. Frost.

What is a SoulCollage® Self-Discovery Playshop?

Essentially this is a gift of 3-6 hours you give yourself. A time to relax, connect with your intuition, feel supported in a small community, play and hopefully grow. The collage part is  pretty simple. If you can flip through magazine images cut with scissors, wield a glue stick and listen to your heart you can create a beautiful dream-like SoulCollage® card. This process is accessible to everyone, regardless of previous art experience. I will lead you through each step along the way, offering guided visualizations and facilitating card "readings" for the group.

(Click the Playshops & Quests link and find out about Shine the Divine SoulCollage® offerings.)

What is a SoulCollage® card reading?

You must look closely and intuitively "listen" to your card. These are not random images you have chosen. They are subconscious aspects of your inner world. As a trained facilitator I will guide you through a sequence of specific questions. You, the creator of the card will not "talk about what you see in the card", instead, while in a deeply relaxed mind state, you will become a vessel through which Universal Divine consciousness is transmitted. The words that arise are an expression of a truth that is both yours and that of collective consciousness. This is an integral part of the practice called "I am the one who...". Each SoulCollage® card is a visual bridge, spanning the divide between spoken and unspoken feelings, thoughts and words; connecting your individual consciousness and Universal Consciousness.

What is a guided visualization?

A guided visualization is an opportunity to close your eyes, relax, listen to prompts that  offer some direction as your imagination takes you on an inner journey. For some individuals the experience is akin to watching a "movie" within their own mind. For others different senses are activated such as sound, smell, taste or touch. Some people don't have sensory experiences per say, but instead "feel" the journey in a more intuitive way.

What else can I do with  my cards?

Once you have created several cards, you will want to categorized them into suits. Eventually you will make a deck of cards to work with on a regular basis. For example, perhaps  you are at transitional cross roads in your life and you are struggling with making decisions. Your SoulCollage® cards can be extremely helpful. Each card reflects a different aspect of your Divine inner wisdom and can provide you with insights into a situation that you might otherwise overlook, because thoughts and fears have a way of muddying up our vision. A typical activity would be to write down a question. Select 4 cards, one from each suit, or any 4 randomly chosen cards. Set them in front of you face down. Ask the same question of each card and write down (or have a friend write down) the card's responses. Sometimes the answers will really surprise you!!!!

What are the SoulCollage® Suits?

Source- the "no-thing-ness" from which all is birthed.

Companion-this is the energetic realm of the chakras. Each chakra has an animal companion or totem that you will discover.

Committee-this is the psychological element of the process. Your many "inner voices" speak from this place.

Community-these cards represent the people and pets in your life who support you-whether as living beings, or memories of loved ones. They may include people you have never met but have influenced your life and guided you at times, none-the-less.

Council-this is the archetypal realm. Unseen beings of collective consciousness who guide you with or without your awareness.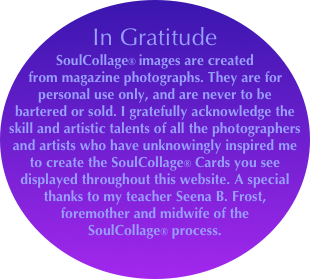 Resources for Getting Started on Your Own

Go to: www.hanfordmead.com There you will find pre-cut mat board...already 5 x 8. Seena's book, and many instructional CD's about the SoulCollage® process.

Any magazine will do. I really love National Geographic as well as various photography and art magazines. Don't rule out black and white photography...it's quite powerful!

*Some people prefer rubber cement as an adhesive, I find that most glue sticks (the kind kids use) are just fine.

*Having a small paper cutter on hand to size background images is helpful, as well as having a small self-healing mat and Exacto-blade (but be careful!)

*You will also need a sharp pair of scissors. Sometimes it helps to have two pairs. One large (average size) and one tiny pair (like for embroidery) to reach around into tiny spaces.

**Nice to have, but not necessary is a "brayer"...used for smoothing out wrinkles in the paper and creating a stronger seal (it will press out air bubbles)

*available at art & craft stores and office supply stores.

**available at art & craft stores only.

© 2008   Laura Hegfield  All rights reserved.