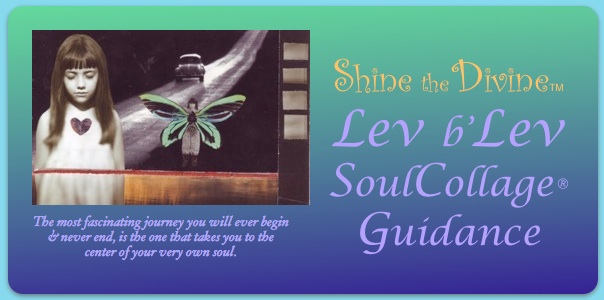 What is SoulCollage®?

Simply put: SoulCollage® is a deeply revealing and healing process combining the creation of small works of collage art that become springboards for self-discovery though SoulCollage® card readings. SoulCollage® was originally developed by my teacher Seena B. Frost. If you can flip through magazine images cut with scissors, wield a glue stick and listen to your heart you can create a beautiful dream-like SoulCollage® card. This process is accessible to everyone, regardless of previous art experience.

What is Lev b'Lev SoulCollage® Guidance?

This is an opportunity to move deeply into the SoulCollage® process one on one. In my experience working this way with SoulCollage® cards is really a form of Spiritual Direction, the images on your cards become springboards allowing you to dive directly to the wise well of Spirit within. As a seasoned SoulCollage® facilitator I have been trained to guide you through the process of reading your card(s) using a sequence of specific questions. As your Lev b'Lev (heart to heart) Guide, I will be your witness and scribe, allowing you to fully immerse yourself in the experience. Although many SoulCollage® practitioners self-witness and scribe, the shift of attention from "stepping" into your card (right brain) to physically writing down what the card has to tell you (left brain) and back again can cause a break in the stream of consciousness. When a trained facilitator scribes for you the urge to self-edit the words that arise from your essential self is released; you are empowered to be fully present to the wisdom that flows from your heart-center.

Guidance is done over the phone with an email follow up of your reading. Before our one-hour session you will create a card or two on your own and then scan or digitally photograph your card(s) and send me a jpg file of your image(s) via email. I am offering this service to experienced SoulCollager's as well as those of you who have yet to dip your toes into the "healing waters" of the process. Please contact me to schedule a time for our heart to heart meeting. If you are new to SoulCollage®, I will forward directions for card making to you once we have agreed on a time. If you have many cards and would like to re-read an old one or read one you made a while ago but have not sat in sacred time with yet, we can look/listen/play with any of these .

♥ Investment: $36-$60 (*Note about sliding fees: I feel that in order to be available to more individuals, it is important for you decide what is affordable at this time in your life within this $ continuum.)